English
Environmental Policy
Idea
Our company is performing R&D and manufacture of metalworking oil, special
lubricant, agrichemical products, and grow fuel. We aim to be a good member of society,
obey law and moral, contribute to the development of the regional society, and endeavor to protect our environment and natural resources.
Policy
We strive to reduce the generating of waste.
Promote the activity to save resources and energy.
Develop and offer the environmentally friendly products.
Take care drain(factory waste) properly.
Contribute to preserve the environment and reduction of pollution.
Abide by laws,regulations,and agreements related to the environment and other
requirements.
Set up the aim and the goal to execute the environmental policy within the limits
that should be attained economically and technically. Then plan, do, and check based on the standards of the environmental management system.
We formulate the above environmental targets to execute the environmental management, and we review, according to the execution situation and the change of surrounding situation.
We make this environmental policy available to our staff and the public through internet website and company brochure.
PALACE CHEMICAL CO.,LTD.
TOSHIO KUNOKI, President
ISO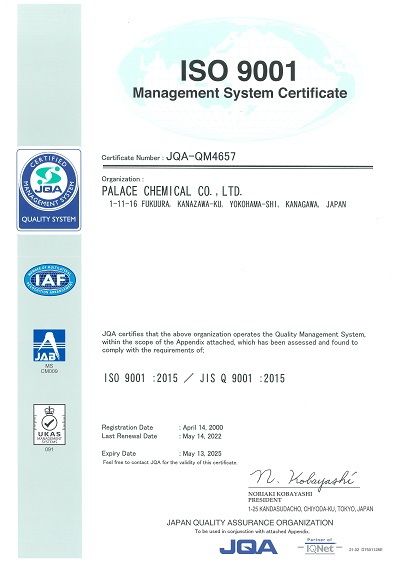 Application standard
ISO9001:2015
Scope
DESIGN / DEVELOPMENT, MANUFACTURE AND SALES OF METAL WORKING FLUID, AUTOMOTIVE LUBRICANTS, INDUSTRIAL LUBRICANTS AND AGRICULTURAL CHEMICAL PRODUCTS (CUT FLOWER PRESERVATION, DYE FOR FLOWERS AND OTHERS)
CONTRACT MANUFACTURE OF SPECIAL LUBRICANTS
Registration date
April 14, 2000
Expiry date
May 13, 2025
Certificate authority
Foundation Japan Quality Assurance Organization (JQA)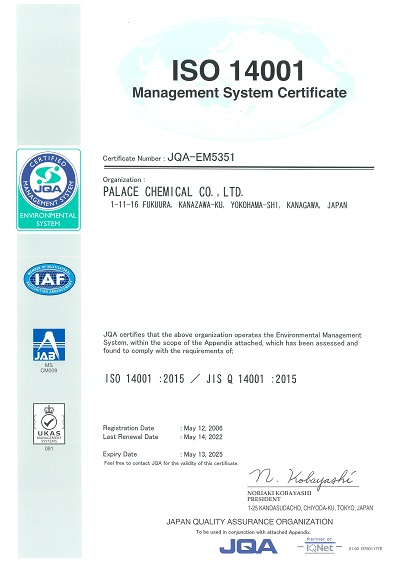 Application standard
ISO14001:2015
Scope
DESIGN / DEVELOPMENT, MANUFACTURE AND SALES OF METAL WORKING FLUID, AUTOMOTIVE LUBRICANTS, INDUSTRIAL LUBRICANTS AND AGRICULTURAL CHEMICAL PRODUCTS (CUT FLOWER PRESERVATION, DYE FOR FLOWERS AND OTHERS)
CONTRACT MANUFACTURE OF SPECIAL LUBRICANTS
Registration date
May 12, 2006
Expiry date
May 13, 2025
Certificate authority
Foundation Japan Quality Assurance Organization (JQA)