English
Company Profile
Name of Company
PALACE CHEMICAL CO.,LTD.
Head Office
1-11-16 Fukuura Kanazawa-ku Yokohama-shi, Japan Zip Code 236-0004
<MAP>
TEL 045-784-7240(Rep.) FAX 045-788-1528(Rep.)
Establishment
June, 1965
Representative
President Toshio Kunoki
Capital
193 million yen
Contents of Business
○ Manufacture and sales of metal processing oil.
○ Manufacture, sales, import and export of special lubricants.
○ Manufacture and sales of special grease.
○ Sales of fuel oil.
○ Manufacture and sales of automotive goods.
○ Processing, sales, intermediary services, and export & import of chemical and petro-chemical products.
○ Manufacture, sales, and export & import of agricultural chemical products.
○ Manufacture, processing, and sales of products utilizing biotechnology research and high technology.
Correspondent Bank
MUFG Bank
Bank of Yokohama
Shoko Chukin Bank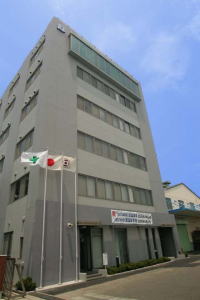 Company History
1965
Palace Chemical Co.,Ltd. was established
1966
Became cooperative plant of Maruzen Oil Co.,Ltd.(Current Cosmo Oil Co.,Ltd.), and started product development.
1967
Head Office and plants moved from Kamata, Ohta-ku, Tokyo to kamiyabe Industrial Park in Tozuka-ku, Yokohama City.
1968
Started a study of the water-soluble metalwork oil
1969
Rolling Oil for steel tubes was developed, and its manufacturing started.
1975
Succeeded in the commercialization of products related to the gardening fertilizers. Conducted expansion of No.3 Research Laboratory.
1982
Industry Heightening Work designated by Yokohama City was introduced, and the Head Office, Plants and Research Laboratories moved from Totsuka-ku,Yokohama City to the present site.
Kita-kyushu Business Office was newly established.
1985
Agency Agreement was Concluded with Maruzen Oil Co.,Ltd.(Current Cosmo Oil Co.,Ltd.)
1988
Kitakyushu Business Office was promoted to Kitakyushu Sales Branch Office.
1992
Nagoya Business Office was established.
1997
June, Capital was tripled to 120 million yen.
August, Stock sharing plan for the employees started.
October, Allocation of new share to a third party was made, and the capital was increased to 193 million yen.
1998
Singapore Business Office was newly established.
Nagoya Business Office was promoted to Nagoya Sales Branch Office.
1999
Singapore Business Office moved to kuala Lumpur (Malaysia)
2000
Semiconductor Material Processing Oil(Water-Soluble) section completed attestation of ISO9001.
2003
PALACE CHEMICAL (MALAYSIA) SDN. BHD. was incorporated from Malaysia Business Office.
ISO9001 application expansion(Semiconductor Materials Processing Oil & Hot Working Rolling Oil)
Agri-Bio Technology Department was established.
2006
ISO14001attestation for the head office plant completion.
2011
Recognized as a "Yokohama Chizai Mirai Enterprise" by Yokohama City, which strategically engaged in intellectual property activities and is oriented toward future growth while enhancing its management capability.
2013
Inaugurated a subsidiary at Bangkok in Thailand.
2014
ISO 9001 application expansion (ALL our products).
Closed Kita-kyushu Business Office.